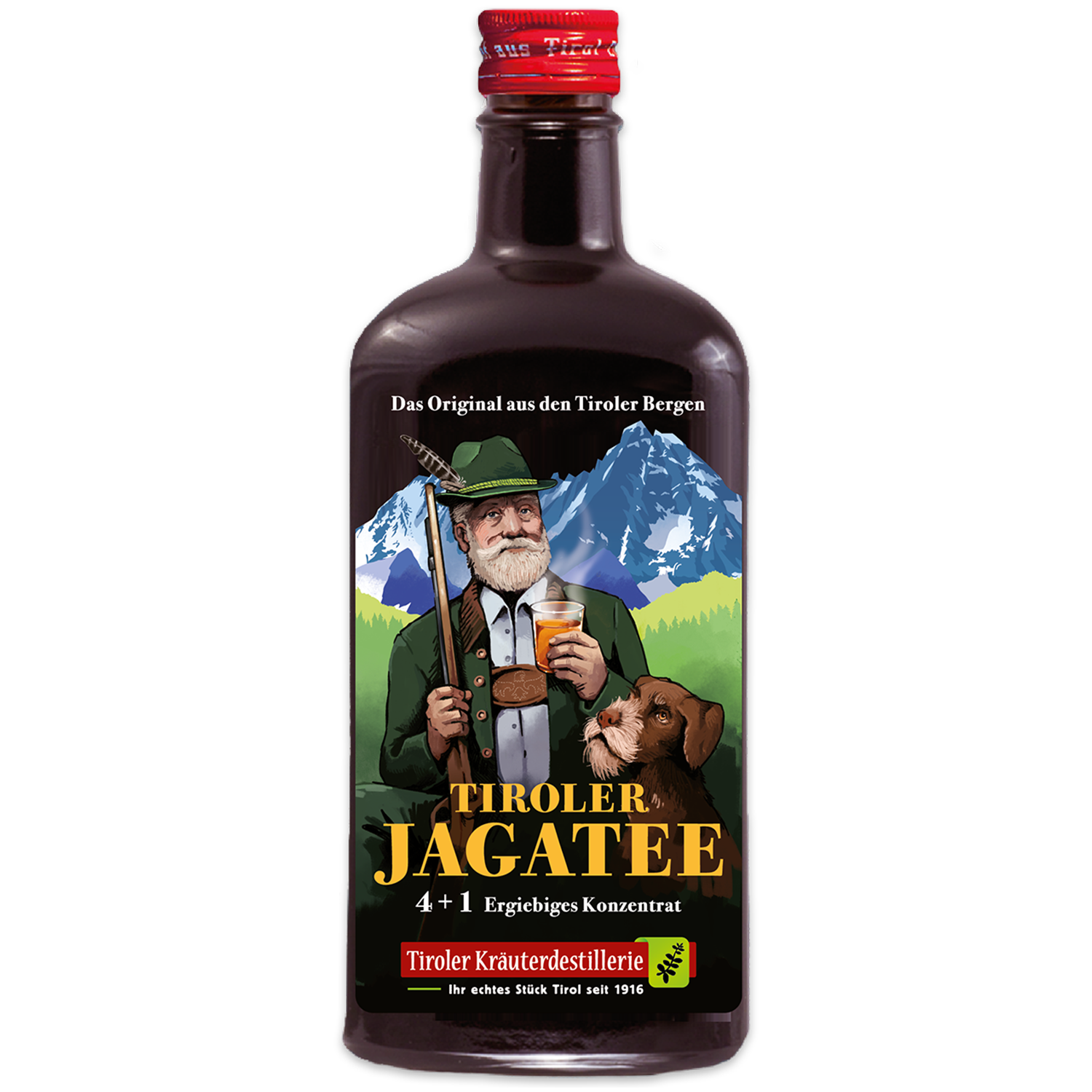 €7.90
Content:
0.2 Liter
(

€39.50

/ 1 Liter)
This Jagatee is a unique Tyrolean speciality! The delicious hot drink guarantees an unforgettable taste experience!
Ready for shipment immediately, for delivery to AT and GER at your place at the latest:11.12.23 to 14.12.23
Alcoholic strength:
40% Vol.
Tyrolean Jagatee
This Jagatee is a typical Tyrolean speciality and is produced according to an old traditional recipe. The mixed drink of black tea, rum and other ingredients can only be called such if it was produced in Austria.
Jagatee is usually drunk as a hot drink from a cup. The rich concentrate - also called "Jägertee" or "Jagertee" - is a typical Tyrolean speciality. It has been drunk in the Tyrolean mountains since the early 19th century.
Jagatee is made from black tea, herbal extracts, fruit schnapps and Inländer rum. Today, "Jagatee" is a product with a geographically protected indication and must be produced in Austria to bear this name. In the herbal distillery, the tea extract is freshly produced and blended with herbal extracts without the addition of wine to make this popular concentrate.
Attention: Never boil Jagertee - the aromas and herbal substances are lost!
Enjoyment tip from Tyrol
Attention! Jagatee must never boil - otherwise the precious aromas and herbal substances will be lost!
Scent:

herbal

, pleasant

, refined

Taste:

delicate

, herbal

Drinking temperature:

hot

Drinking suggestion:

4 to 1 with hot water

Pairs well with:

Tyrolean snack

Occasion:

aprés-ski

, for friends