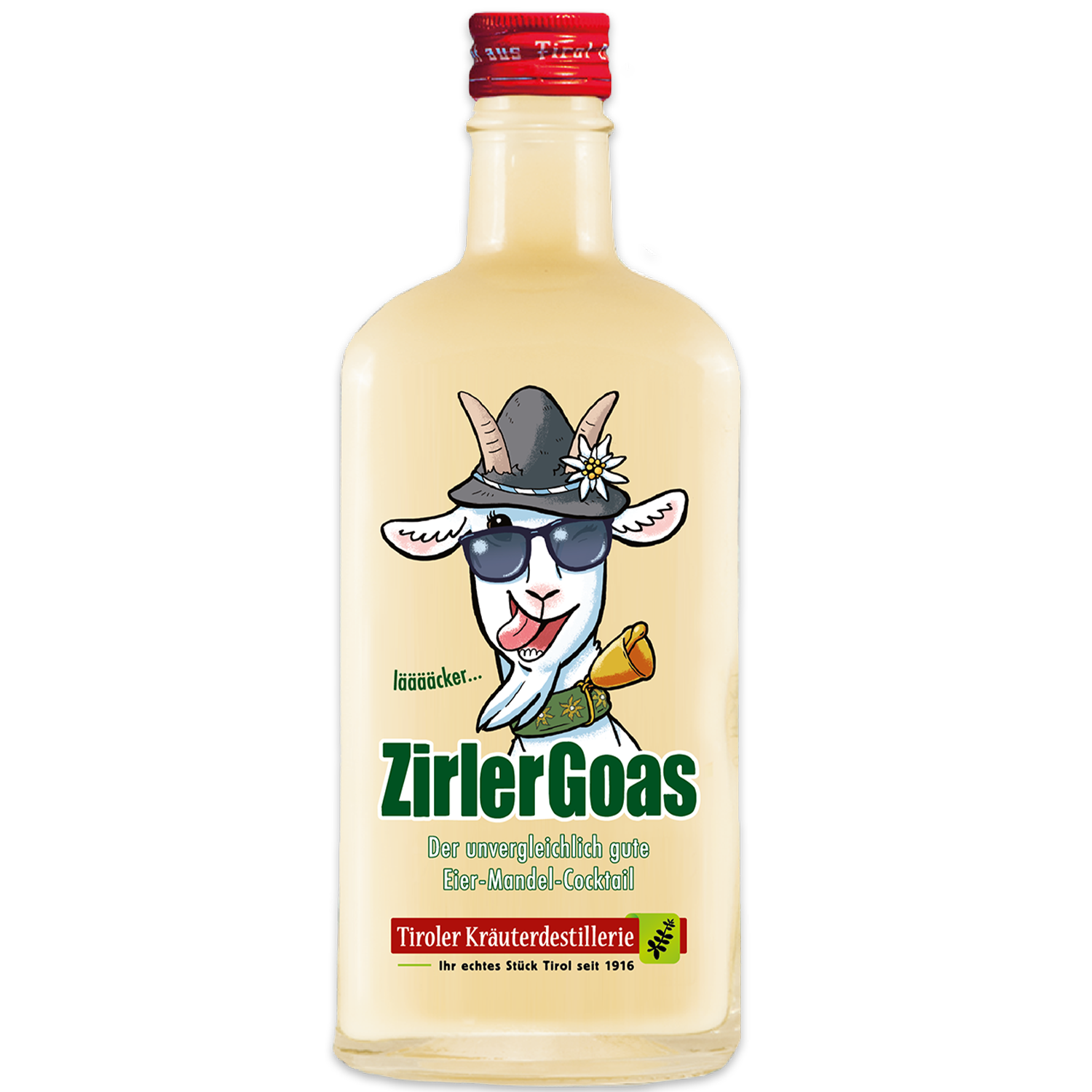 €12.90
Content:
0.5 Liter
(

€25.80

/ 1 Liter)
This almond egg cocktail liqueur is made from fresh Zillertal alpine dairy milk, quality eggs, fine almonds and genuine Jamaican rum. It tastes wonderful pure or in imaginative cocktails.
Ready for shipment immediately, for delivery to AT and GER at your place at the latest:11.12.23 to 15.12.23
Alcoholic strength:
20% Vol.
Zirler Goas® Egg and Almond Cocktail
The Zirler Goas Almond Egg Cocktail is a classic of the herbal distillery. It has been around for over 30 years. The pure natural product is perfect in creamy hot drinks and for mixing a wide variety of cocktails.
Important: the complete absence of additives causes the individual ingredients to settle. This is quite normal and a sign of quality. Therefore, Zirler Goas should always be shaken well before opening the bottle.
Zirler Goas® is a registered trademark for the Tiroler Kräuterdestillerie.
Enjoyment tip from Tyrol
Try this cocktail liqueur on the rocks, with crushed ice - or add an extra bit of flavour to your milk shakes, fruit cocktails, or coconut drinks.Come on, let's shake!
Scent:

pleasant

, refined

, smooth

Taste:

creamy

, delicate

, mild

Drinking temperature:

between 16° and 20°C

Drinking suggestion:
in cocktails

, pure

, with ice

Pairs well with:

baked goods

, desserts

, vanilla ice cream

Occasion:

birthday

, gift
Die Zirler Goas ist ein reines Naturprodukt. Diesen Cocktaillikör stellen wir unter Mitverwendung von frischer Sennereimilch aus dem Zillertal und Qualitätseiern, zusammen mit Rum, mildem Weinbrand und Kräuterauszügen her. Sowohl Eier als auch Milch wurden pasteurisiert.
Der gänzliche Verzicht auf künstliche Zusatzstoffe bedingt jedoch das Absetzen der einzelnen Inhaltsstoffe in der Flasche. Das ist ganz normal und im Grunde ein Qualitätsmerkmal. Deshalb sollte ein Likör mit Ei-Anteil auch immer vor dem Öffnen der Flasche gut geschüttelt werden.

Selbstgemachten Eierlikör sollte man stets im Kühlschrank lagern. Die Zirler Goas hat jedoch einen Alkoholgehalt von 20% Vol. und kann daher bedenkenlos bei Zimmertemperatur gelagert werden.