FREE shot glass
Top Seller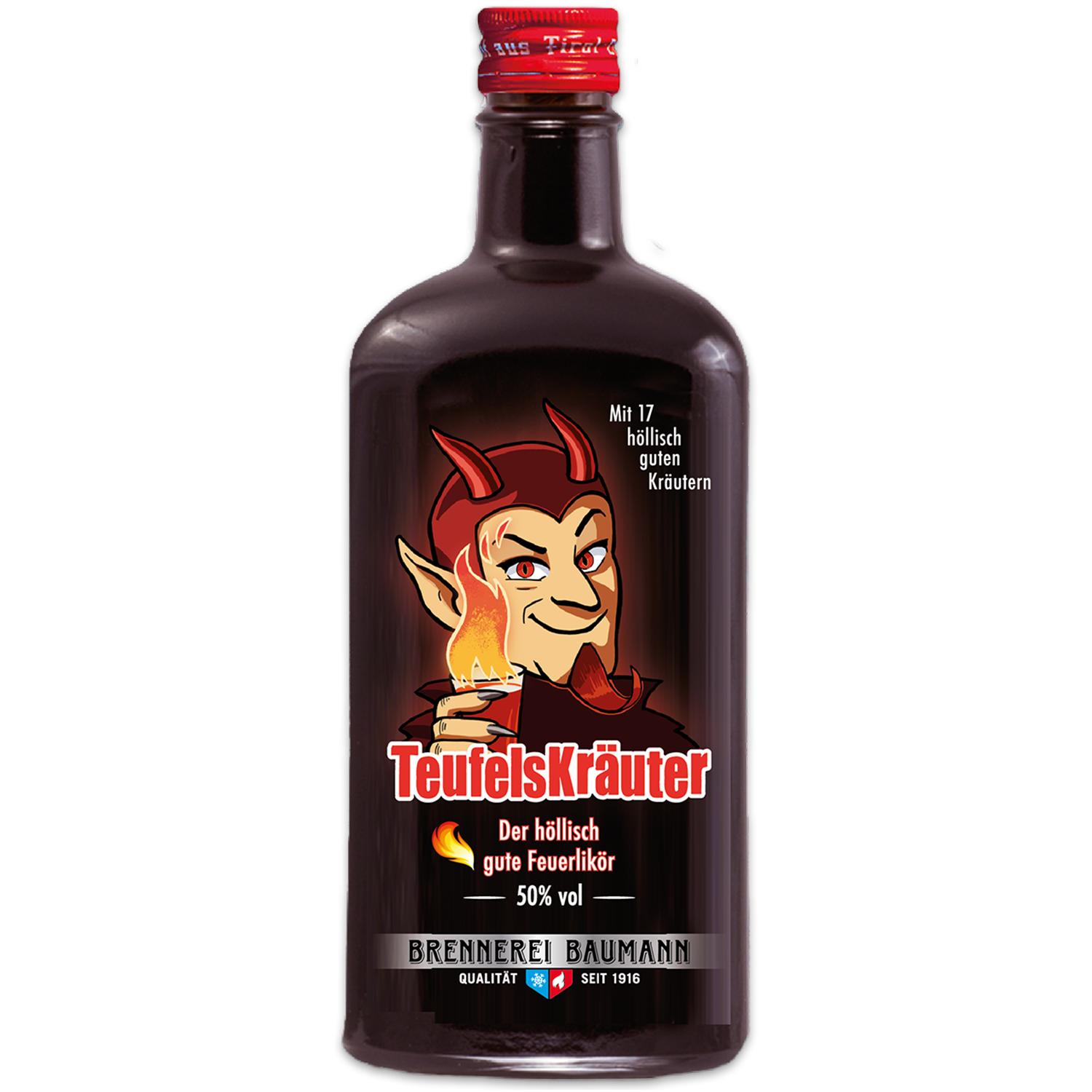 €9.90
Content:
0.2 Liter
(

€49.50

/ 1 Liter)
This hellishly good fire liqueur tastes pleasantly sweet, with a slightly tart herbal flavor Teufelskräuter Feuerlikör burns in a glass and tastes best in a sociable round.
Ready for shipment immediately, for delivery to AT and GER at your place at the latest:11.12.23 to 14.12.23
Alcoholic strength:
50% Vol.
Devils Herbs Liqueur
17 devilishly good herbs are the mystery behind this fire liqueur. Your Devil's Herb Fire Liqueur burns in the glass!
Now FREE with every 0.50 lt and 0.70 lt bottle: a fireproof liqueur glass worth €1.90.
Teufelskräuter® is a registered trademark for the Baumann distillery.
Devil's Herb fire ritual
Try an original Tyrolean fire ritual - your guests will be thrilled! It's as simple as this: fill fireproof
schnapps
glasses to the brim with Devil's Herb fire liqueur and light them with a match. This way you determine the strength yourself:
Original alc. 50 % vol.
 3 minutes Fire in a glass alc. 45 % Vol.
5 minutes Fire in a glass alc. 42 % Vol.
10 minutes fire in the glass alc. 33 % Vol.
Blow out the flame and now stir the liqueur, preferably with a small spoon, and let the glasses cool briefly. Or hand out straws, stir with them and sip the fire liqueur. Your guests will be delighted!
Safety advice fire ritual
Handling fire requires a healthy amount of caution. Always use fireproof glasses, never make the fire on flammable surfaces, and carefully blow out the fire - alternatively, smother the flame with a larger glass. As always, our principle is: for the benefit and enjoyment, but never in excess.    
Enjoyment tip from Tyrol
The hit for birthday parties and other anniversaries: a real Tyrolean fireritual with Devil Herbs liqueur - you shouldn't miss it!
Scent:

herbal

, refined

Taste:

fresh

, herbal

, strong

Drinking temperature:

between 14° and 18°C

, hot

Drinking suggestion:

pure

, with ice

Pairs well with:

desserts

Occasion:

Tyrolean fire ritual

, aprés-ski

, summer party